Discover the most attractive music venues in Prague!
Prague is an enchanting city and prime European tourist destination. It offers much more, however, than majestic monuments and excellent beer. The Czech Republic, and particularly Prague, have seen the creation of some of the most significant pieces of classical music and has produced a few famous composers, including Bedřich Smetana, Antonín Dvořák, Leoš Janáček, Bohuslav Martinů, and even Gustav Mahler. W. A. Mozart had a famously warm relationship with Prague. What's more, the music scene has remained on a high level to this day. This article is a compilation of places and institutions which are not to be missed should you wish to have the best musical experiences Prague has to offer. Most Czech musical institutions are housed in beautiful and unique historical buildings which are worth visiting in and of themselves. The following tips therefore offer two experiences in one: Architectural and musical.

Prague has two well-known concert halls – the Dvořák Hall in Rudolfinum and the Smetana Hall in the Municipal House – but it is possible to find concerts of classical music all around the city. Among the most renowned concert halls are Bertramka (Museum of Mozart) and Atrium in Žižkov. Concerts and recitals of classical music held in churches and palaces are also popular. Regular concerts take place on the steps of the National Museum and during the summer in some of Prague gardens.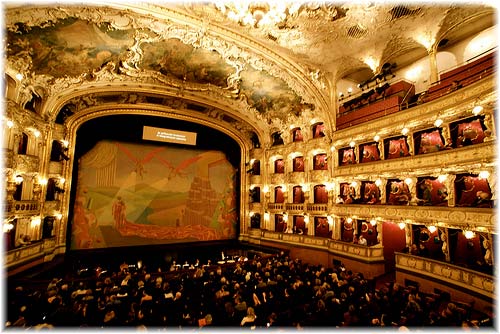 When it comes to opera, Prague has three major opera houses and two opera companies: The National Theater and the State Opera, both, while also working together, performing in their own venues. The latter presents predominantly standard Italian repertoire in the original language. The National Opera Company has more experimental repertoire, and many of its operas are performed in Czech. If you want to see a Czech opera performed by a Czech ensemble, the National Theatre is your best opportunity to do so. The Estates Theatre, which is connected with the National Theater, performs mainly classical, Italian operas in the original language, most notably by W. A. Mozart. Opera tickets for top-price seats range from 1,000 CZK to 1,300 CZK, with the cheapest, standing room, tickets, available for only 230 CZK, making opera in Prague more accessible than in most cities in Europe.
The Most Famous Venues
The National Theater (Národní 2, Prague 1)
One of the most important and famous monuments in Prague is the Czech National Theater, which the locals nicknamed "the golden chapel." The building's origins are rather tempestuous: The entire Czech nation donated out-of-pocket to fund the construction of a temple to Czech art but the unfinished theater burned down, so the Czechs had to organize another round of donations. The majestic National Theater, though rather large, is filled with objects of art from basement to attic: There are statues and sculptures on every floor and pictures and paintings on every wall. The national opera, ballet and theater companies are all based here. Of particular note are performances of Czech operatic repertoire, much of which was written specifically for this theater, which is performed by a high-level Czech operatic ensemble. You may see operas by Bedřich Smetana (The Bartered Bride), Antonín Dvořák (Rusalka) and Leoš Janáček (Jenůfa, The Cunning Little Vixen) decked out in rich productions promising an attractive spectacle. Learn more at www.narodni-divadlo.cz
The Estates Theater (Rytířská street 539/24, Prague 1)
The Estates Theater is a Prague treasure. It is the oldest standing theater build by Frantz Anton Nostitz in the years 1781-1783. The beautifully preserved Italian-style theater's interior is decorated in blue and gold. What's more, the theater's history is connected to W. A. Mozart himself, who repeatedly conducted there, first the Prague premiere of Le Nozze di Figaro in 1786 and then the opera he wrote specifically for this theater, Don Giovanni, the 1787 premiere of which brought him enormous success. It was also in this theater that Czech director Miloš Forman shot most of the opera scenes in his cult-classic, Amadeus. Both aforementioned operas by Mozart, as well as many others, are performed in the theater to this day. The performances are also performed by the ensemble of the Czech National Theater. Find out more at www.narodni-divadlo.cz
The Municipal House (Náměstí republiky 5, Prague 1)
Another unique location is the Municipal House, home of the second most important Czech orchestra – the Prague Symphony Orchestra, otherwise known as FOK. You certainly shouldn't miss visiting the Municipal House. Historians consider this unique building the purest exiting architectural example of Art-Nouveau, the 20th century esthetic most iconically represented by the works of Czech artist Alfons Mucha. Inside, you will find Smetana's Hall, which is among the largest concert halls in Prague. The FOK orchestra performs here several times a month, usually offering sweeping orchestral concerts – Gustav Mahler, Anton Bruckner and Czech composers. Characteristic of the FOK orchestra is that it invites mostly foreign conductors to lead its concerts. Learn more at www.fok.cz and www.obecnidum.cz
Rudolfinum (Alšovo nábřeží 12, Praha1)
If you want to see the best Czech symphony orchestra, however, you must visit the Rudolfínum and experience the sound of the Czech Philharmonic. The majestic building, which also houses a modern art gallery and a café, is positioned on the banks of the Vltava river, a short way downstream from the National Theater. The Czech Philharmonic is one of the last European orchestras to cultivate a specific sound and repertoire. Many important composers wrote specifically for this ensemble, including Antonín Dvořák, Gustav Mahler, and Bohuslav Martinů. Learn more at www.ceskafilharmonie.cz and www.rudolfinum.cz/en/
Festivals
Prague Spring Festival
The Prague Spring (Pražské Jaro) festival is the largest annual music festival in Prague. It includes outstanding performing artists, symphony orchestras, and chamber music ensembles from around the world. The festival commemorates important musical anniversaries through its programing as well as Czech and world premieres of compositions by contemporary composers. This is not to be missed. For more details, including the festival's programme, visit www.festival.cz. We recommend you buy tickets in advance at www.TicketPro.cz. On the other hand, this festival features four to six concerts every day so it is easy to just drop in. Many concerts are performed in Prague's churches, so be prepared for a chilly evening; some are in gardens and courtyards. Performances generally start at 5pm or a little later.
Verdi Festival
In August and September, this festival features productions of Giuseppe Verdi's operas at the Prague State Opera. Learn more at www.narodni-divadlo.cz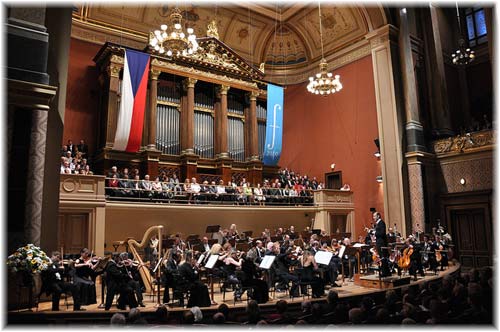 Jazz Venues
If you prefer an informal atmosphere and wish to visit a high-quality jazz concert in a laidback club where you can listen to Czech and international jazz musicians over a glass of wine or pint of beer, Prague offers several options worth exploring.
Reduta Jazz club (Narodní 116/20, Praha 1)
Reduta is a traditional jazz club which seeks to maintain the atmosphere of 80s luxury. It is usually packed because it offers some of the most interesting concerts in Prague. Many Jazz legends have played here and even American president Bill Clinton got to show off his sax skills at this very club during his visit to Prague. More at www.redutajazzclub.cz
Lucerna Music Bar (Vodičkova 36, Praha 1)
This club offers a more commercial array of jazz combined with fusion and pop. It is housed underground under the Lucerna Palace near Wenceslas square. It was built in 1909 as home of the legendary Czech cabaret artists Karel Hašler. If you long for louder music and a younger crowd, this is the place to go. Learn more at www.musicbar.cz/en/
AghaRTA Jazz Club (Železná 16, Praha 1)
If your preference is for a small club with more restrained, serious jazz, visit the Agharta club. Located in the historical center of Prague, its programs feature a lot of sophisticated and traditional jazz. Learn more at www.agharta.cz/
An (Almost) Comprehensive List of Concert Venues
Municipal House, nám. Republiky 5
Rudolfinum, nám. Jana Palacha 1
Bertramka, Mozartova 169
Atrium na Žižkově, Čajkovského 12
Klementinum, Klementinum 190
Lichtenstejn Palace, Lesser Town Sq. 13
National Museum – historical stairway, Wenceslas Square 68
Church of St. James, Malá Štupartská 6
St. Nicholas Church, Malostranské nám.
Church of St. Francis, Prague 1, Křížovnické nám. (next to Charles bridge)
Church of St.Caetanus, Nerudova
Church of St. Nicholas, Old Town Square
St. Vitus Cathedral, Prague Castle
Monastery of St. Anna, Liliová
Church of St. Gilles, Prague 1, Husova 8
Church of St. Simon and Jude, U Milosrdných
St. Agnes Convent, U Milosrdných 17
Selected Musical Theater Venues
Congress Centre Prague, třída 5.května
Ta Fantastika, Karlova 8
Theatre Kalich, Jungmannova 9
Goja Music Hall, Prague Exhibition Grounds
Theatre Broadway, Na příkopě 31
Places To Avoid At All Costs!
The historical center of Prague is littered with people in historical costumes handing out flyers with concert invitations, mostly named along the lines of The Best of the Classics or Famous Melodies. These are usually low-quality concerts held in churches or other historical venues. Even if you are not a music specialist, you will likely sense that these potpourri programs offer poor quality performances of under-rehearsed repertoire. Usually, these concerts are organized by agencies that sell expensive tickets and exploit musicians and singers. The most frequent venues are The Mirror Hall of the Clementinum monastery, both St. Nicolaus churches, and even the Smetana Hall of the Municipal House in the afternoon hours.
Tickets and Reservations
Though it's always safer to book in advance, you might be lucky to buy tickets half an hour before a show (or at the theatre box office). If you prefer the peace of mind of booking ahead of time, you will find plenty of agencies that sell tickets for a wide array of venues, be it theater, opera or concerts of any genre. Generally, all accept credit cards at no surcharge. We recommend Ticketpro and Ticketcentrum. Most venues offer some discounts for students, children and people with disabilities.