It's been seventy years since the death of influential Czech singer Míla Kočová. Despite many offers from abroad, she tied her career primarily to the Czech National Theatre where she was among the most sought after opera performers of the interwar period. She grew from a coloratura soprano to dramatic parts. Unfortunately, there are few recordings documenting her vocal artistry.
Although arts and statistics seem to be quite unrelated, statistics aide significantly in mapping the artistic activities of a given performer. The National Theatre's beautifully-compiled digital archive also gives us the opportunity to peer deeper into the work of Míla Kočová. The singer has performed at the National Theatre in 1,667 performances, beginning with her guest debut on the 13th of February 1924. In her 20 years as a guest and, later, ensemble-member of the theatre (from the 1st of April 1927) she took up 79 different roles and 1 part in an operetta, and also sang in ballets and theatre performances and in concert programs. She simultaneously performed as a guest on other Czech and Slovak operatic stages, like in Bratislava, Pilsen, Olomouc and Brno. Add to that the numerous concerts, with orchestra and evenings of songs and arias with piano. Her most significant achievements abroad include a guest performance at Convent Garden in London and at the Glyndebourne festival in 1935 along with her concert tour of the United States in November and December of that same year.
At the National Theatre, Míla Kočová studied under the Czech singer Dadla Škarková and was accepted mainly as a coloratura soprano, a voice that had not been cast since the departure of Marie Bogucká in 1924. Jarmila Novotná, who began as a student of theatre acting at the National Theatre in episodic and smaller roles, similarly guested numerous times during this period. Nine years her junior, Novotná quickly began performing on the theatre stage and the two singers ended up studying some roles simultaneously but also met on stage as Mercedes and Frasquita in Bizet's Carmen. They both studied roles typical for young coloratura singers, like the Königin der Nacht from Mozart's Die Zauberflüte, Olympia and Antonia in Offenbach's Tales of Hofmann, or Nannetta in Verdi's Falstaff. The peak of Jarmila Novotná's short time at the National Theatre was the principle role of Violetta in Verdi's La Traviata, a role that was later taken over by Míla Kočová, who sang it for the first time on the 26th of February 1927. The part of the Parisian courtesan became one of the principle roles of Kočová's repertoire. She sang this role on the stage of the National Theatre ninety times. After Jarmila Novotná's departure abroad for further musical education and her subsequent international career, Míla Kočová took over more of her roles. Her initial guesting had already caught the attention of the press and received positive feedback and she had already become one of the long-term guests needed to cast certain roles. She didn't receive instant admiration like Jarmila Novotná, but managed to imbue her roles with personal charm, musicality, and artistic humility.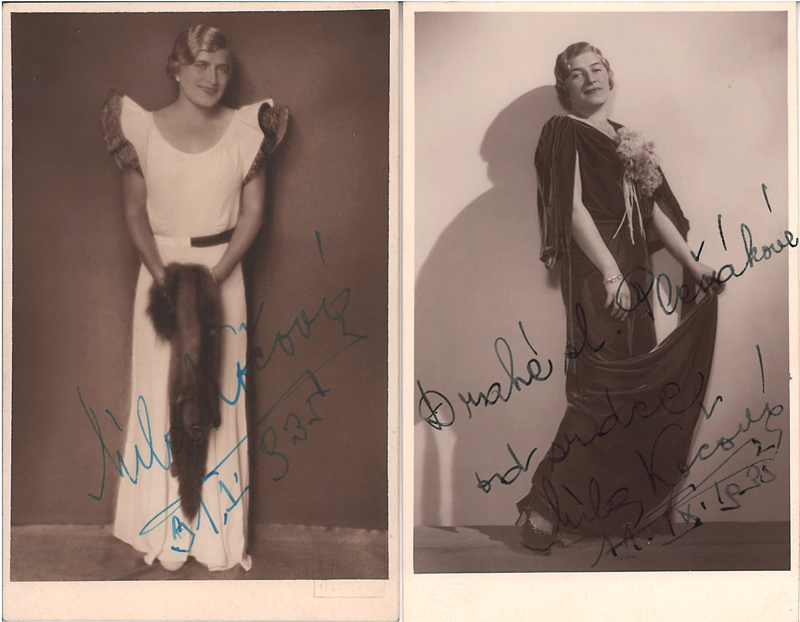 Míla Kočová grew from one role to another throughout her time at the National Theater. She had a pattern of transitioning from smaller parts to larger ones within the same operas: in Aida, she went from playing The First Priestess to the titular role, in Weber's Der Freischütz she went from First Bridesmaid to Agata, in Don Giovanni she first sang Zerlina (1929-1931), then Donna Elvira (1937-1938) and then Donna Anna (1934-1935, 1943), in Nicolai's The Merry Wives of Windsor she exchanged the role of the naive Anna for the smart Lady Brods ect. The greatest roles of her career were of the French and Italian repertoire. Of Rossini's coloratura roles, she of course performed Rosina in Il Barbiere di Siviglia (twenty times), Isabella in L'italiana in Algeri (two productions, eighteen times) or Berta in William Tell (thirteen times). She sang Gilda from Verdi's Rigoletto forty-seven times, debuting the role in 1937 alongside a guest star of the Metropolitan Opera, baritone Lawrence Tibbett in the title role. Some of her other noteworthy performances of the Verdi repertoire are her critically-acclaimed Leonora from Il Trovatore (two productions, thirty two times) and Leonora di Vargas from La forza del destino (eight times). Her paramount role became Cio Cio San from Puccini's Madama Butterfly. She sang the part eighty times, developing the role to perfection. Her first four appearances in 1926 were as a guest, the next two productions won her high praise among audience and critics alike. However, she continued being compared to Jarmila Novotná whenever the singer returned to guest all throughout the thirties, including in the role of Cio Cio San. Another paramount role was that of Liú from Puccini's Turandot, a role that Kočová delivered with unprecedented tenderness and tragedy. She also charmed audiences in French repertoire. Her interpretation of Lakmé from Delibes' opera by the same name (performed twenty one times), the aforementioned heroines from the Tales of Hoffman, Micaëla from Bizet's Carmen (thirty one times) are all noteworthy examples. The gradual development of her voice led her to more lyrical-dramatic roles and even some high-dramatic ones. She sang both Massenet's and Puccini's Manon, for example, each 8 times. Interestingly she sang Puccini's more dramatic Manon (1935) before the coloratura role of Massenet (1939). She also Marguerits in both Gounod's and Boito's version of Mephistopheles. Her delicate and highly lyrical Mimi from Puccini's La bohème (fifteen times) was also very well received.